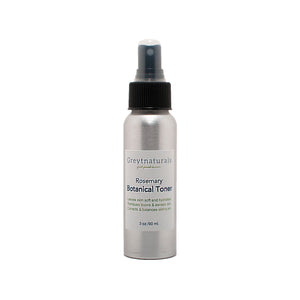 Greytnaturals
Rosemary Botanical Toner
Regular price
$24.00
$24.00
Greytnaturals
Rosemary Botanical Toner
The secret weapon to healthy skin is face toner. Rosemary Botanical Toner helps balance the skin's pH, gently exfoliates and remove toxins left behind during the cleansing process. It leaves skin feeling clarified and primed for proper moisture absorption. Rosemary water with its light crisp aroma is reputed to calm irritated skin for a rejuvenated look and feel. Does not contain alcohol, perfect for all skin types. 
Has a light, crisp herbaceous note.
How to use:
Spray directly onto face, neck and chest with eyes closed or put on cotton pad first then apply. Use after cleansing and before moisturizer. 
---