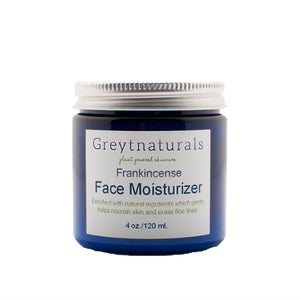 Greytnaturals
Frankincense Face Moisturizer
Regular price
$35.00
$35.00
Greytnaturals
Frankincense Face Moisturizer
A gentle cream that is deceptively light considering it is loaded with hydrating ingredients. Rose Hip Oil is known to improve the appearance of fragile and aging skin. Jojoba Milk is a natural non-greasy skin conditioner that leaves kin feeling elegant. Lavender Water is naturally non-irritating, soothing, calming and moisturizing. Frankincense Essential Oil helps aid in reducing fine lines and wrinkles.
Formulated for all skin types.
Paraben-free, Vegan, Cruelty-free, and Gluten-free.
Has a light woodsy scent with a top note of citrus using 100% pure essential oils.
How to use:
Massage gently into face, decollete area (neck and chest) to hydrate and protect. For best results use after Anti-aging or Deep Clean Essential Facial Cleanser and Rosemary Botanical Toner.
---