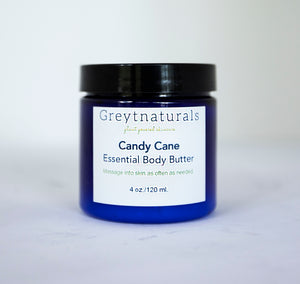 Greytnaturals
Essential Body Butter
Regular price
$27.00
$27.00
Greytnaturals
Essential Body Butter
Our thick, luxurious body butter contains Shea Butter, Aloe Vera, Silk Amino Acids, Sunflower Oil and Coconut Oil.
The Silk Amino Acids are the star of this product, providing a protective barrier and leaving behind a silky finish as it is massaged into the skin.
This body butter does not clog pores and will help to protect, hydrate and nourish the skin.
Paraben-free, Vegan, Cruelty-free and Gluten-Free.
Scented with natural essential oil blends thoughtfully created in-house.
How to use:
Massage generously onto body as often as needed. Use after exfoliating with Essential Sugar Scrub.
---